Ways for Consumers to Earn Fuel Rewards savings:
Click each to learn more
Fuel Rewards savings earned from all FRN™ programs are combined in Members' FRN Accounts allowing Members to save big at the pump. Fuel Rewards savings are stackable across the entire FRN program, so there is no limit to the amount consumers can earn!
The FRN program is a revolutionary new program that offers consumers a variety of ways to earn Fuel Rewards® savings through everyday purchases of things like food, clothing, household goods and more, which can be redeemed for fuel savings at participating Shell stations nationwide.
The FRN program is quickly becoming the most recognized and fastest growing cents per gallon rewards program in the nation. The FRN program uses patented cents per gallon rewards on fuel as the ultimate consumer incentive, providing unprecedented results for FRN program grocery and retail Participants who offer the program to their customers.
At the core of it all, the FRN program works because it provides the ultimate consumer experience – price roll down at the pump.
Shell is the national redemption Participant for the FRN program, so consumers will have the opportunity to earn rewards through their everyday purchases so that they can pay significantly less on quality Shell fuels. With the FRN program, consumers have the opportunity to take as much as one, two, three dollars or more off per gallon on their next fuel purchase! That's big savings at the pump!
Redemption of rewards is the big hook for the program. When inserting their rewards cards at the pump, consumers see the price of fuel drop right before their eyes. The gratification is instant and the savings are real. This combination of recency, frequency and monetary value keeps consumers engaged in the program and constantly looking for ways to earn more Fuel Rewards savings and maximize their reward at the pump.
4 easy steps
for consumers
to watch their
price drop!
Hover over each to learn more
Sign up at fuelrewards.com
Manage account online
Shop & earn Fuel Rewards® savings
Fuel & save at the pump!
How It Works!
FRN™ Members save an average 32¢/gal when redeeming Fuel Rewards® savings. To date, The Fuel Rewards Network™ program has saved its Members millions on fuel! As consumers experience powerful savings of cents per gallon rewards, they change their shopping patterns to seek out more earning opportunities available only through the Fuel Rewards Network.
Participation in the Fuel Rewards Network™ program is scalable and flexible to meet the needs of all of our Participants. Here are the ways your organization can participate!
3 Ways to Play
Issue Fuel Rewards® Savings to Your Customers
Offer a patent protected loyalty program that rewards customers for shopping at your stores with the ultimate incentive: cents per gallon rewards on gasoline.
Basket Level Rewards
Fuel Rewards savings are issued for the total amount a customer spends during a single or multiple transactions at your store. (Example: Customers earn 5¢/gal in Fuel Rewards savings for every $50 spent).
Item-Based Rewards
Fuel Rewardssavings are issued when a customer purchases specially marked products at your store. Item-based rewards can be combined with the basket-size reward to increase the total amount of Fuel Rewards savings earned. (Example: Buy 1 – 64oz. Sunny D and earn 5¢/gal in Fuel Rewards savings).
Relationship and Event Triggered Rewards
Fuel Rewards savings are issued for a specific attribute unique to the customer relationship. (Example: Earn a 5¢/gal in Fuel Rewards savings when customers create an account).
Convert Currency
Convert existing loyalty currency to Fuel Rewards savings, giving customers access to a valuable reward currency and adding velocity to reward redemption (i.e. 100 shopper points equals 10¢/gal in Fuel Rewards savings).
Local Promotions
Set up cross promotions with your neighborhood businesses and through other promotions run by participating FRN™ program retailers.
Member Portal
Consumers can join the Fuel Rewards Network™ (FRN) program for free when they sign up at fuelrewards.com. Consumer can request an FRN™ Card online or pick one up at any participating Shell station and link it to their FRN Account. Once FRN Members sign up and gain access to fuelrewards.com, FRN Members are able to:
View account details in the My Dashboard section such as FRN Account balance, rewards in progress, recent transactions and Fuel Rewards® savings expiration dates
Aggregate Fuel Rewards savings by linking all participating FRN™ program grocery and retailers' rewards cards to their FRN Account to combine Fuel Rewards savings earned across participating grocery and retail locations, restaurants and online merchant purchases into one cumulative rewards balance
Access the Online Mall program where FRN Members can earn Fuel Rewards savings for shopping with nearly 700 online merchants
Sign up for the Dining program and earn rewards for dining activity coast to coast at more than 10,000 participating restaurants, bars and clubs
Use the eCoupons program to select eCoupons that will load to the participating grocery rewards cards they've linked to their FRN Account and earn rewards when they purchase the eCoupons items at a participating grocery store location
Download the FRN Mobile App for iPhone or Android to manage their FRN Account, select eCoupons, find nearby locations to earn and redeem Fuel Rewards savings and more all from their mobile devices
Access SMS/Text capabilities allowing FRN Members to receive SMS text messages with their account balance if they include their cell phone number in their account profile
Take advantage of enhanced mapping capabilities that make it easy for FRN Members to identify and locate nearby places to earn and redeem Fuel Rewards savings
Administration Portal
Fuel Rewards Network™ (FRN) program Participants are provided secure access to the Reward Marketplace® Administration Portal where they can:
Track the issuance and redemption of Fuel Rewards® savings and view transaction information at participating sites
Create ancillary FRN™ offerings, including Bonus Fuel Rewards savings
View and adjust FRN Member purchase balances and Fuel Rewards savings to better support customer inquiries and resolve account issues
Aggregate multiple rewards cards under a primary FRN Account to better support FRN Members who wish to take advantage of card linking
Generate reports to track and monitor program activity for support, accounting and general business purposes
iPhone App
Click image to enlarge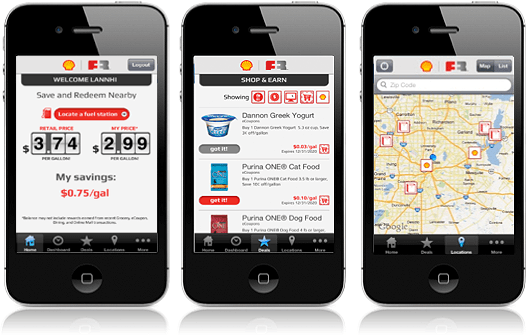 Android App
Click image to enlarge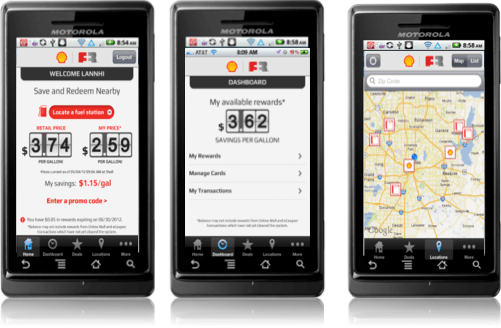 Add Mobile Number to Profile
Click image to enlarge
Mobile Site
Click image to enlarge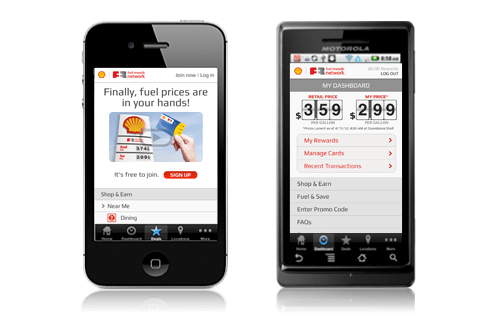 FRN™ Mobile
Take the Fuel Rewards Network™ with you wherever you go.
FRN™ iPhone & Android Apps
Saving on fuel has never been easier or more mobile! With the FRN Apps, consumers can:
Find nearby locations where they can earn Fuel Rewards® savings by shopping and dining at their favorite grocery stores, retailers and restaurants.
Locate fuel stations and see their personal fuel price based on their available rewards.
Select eCoupons, check their rewards balance, and more...
Start earning and saving today right from their mobile devices!


Check your Fuel Rewards® Savings Balance by Text
Saving on fuel has never been easier or more mobile!
Consumers can check their rewards balance anytime by texting FUELREWARDS to 41411.
Consumers add their mobile number to their account profile in order to receive their rewards balance and expiring rewards by SMS/text.
The FRN™ Mobile Site
Saving on fuel has never been easier or more mobile!
Consumers can access fuelrewards.com from their mobile devices to find participating grocery stores, fuel stations, restaurants and retailers nearby. They can even select eCoupons, check their Fuel Rewards® savings balance, view their personal fuel price and more.